CONFIGURING YOUR HARDWARE APPLIANCE TO PRESENT LOCAL FC TARGETS TO THE CLOUD
INTRODUCTION
This guide will teach you how to log into a Fibre Channel target in your local SAN from your WANrockIT hardware appliance to present it into the AWS cloud. This tutorial will use a Fibre Channel tape drive, a WANrockIT 200 series hardware appliance with Fibre Channel capabilities, and a WANrockIT Node in AWS.
SETTING THE FC PORT CONFIGURATION
In order to connect devices to your local WANrockIT Node, at least one Fibre Channel port must be set to present in "Initiator Mode". To do this, log into the web interface, then click on the "FC Port Configuration" button from the home screen as shown below.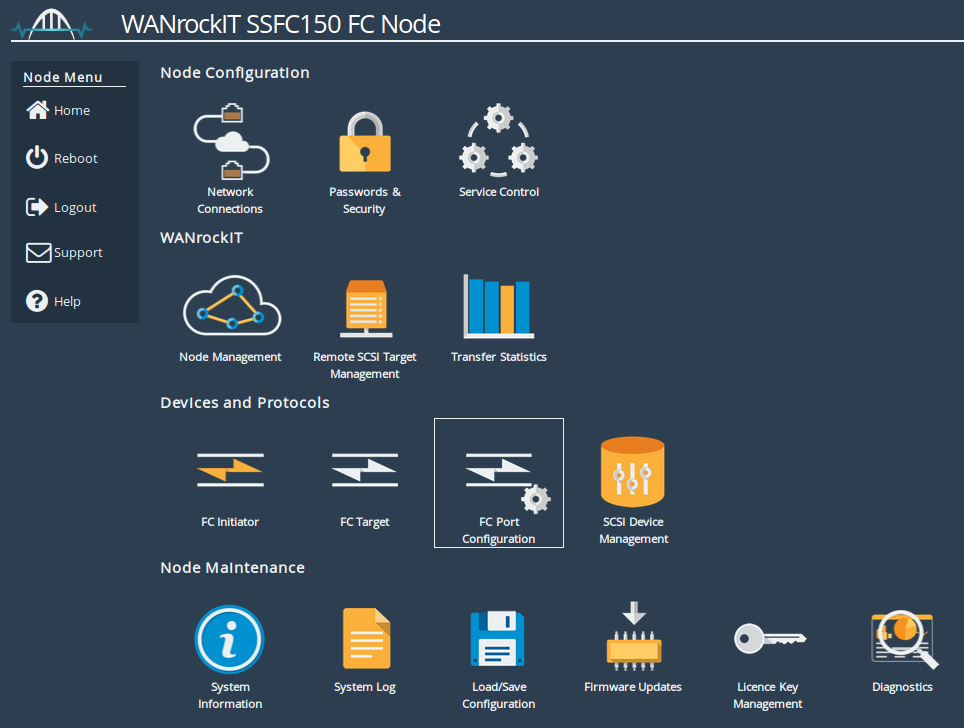 This will bring up a page showing all of the Fibre Channel ports on the Node. From the example in the image below, both ports are in their default configuration. "Port 2B" is set to initiator mode as required. If your configuration does not have any ports set to "Initiator", change one of the ports and click the "Save" button. A reboot will be required for the changes to take effect.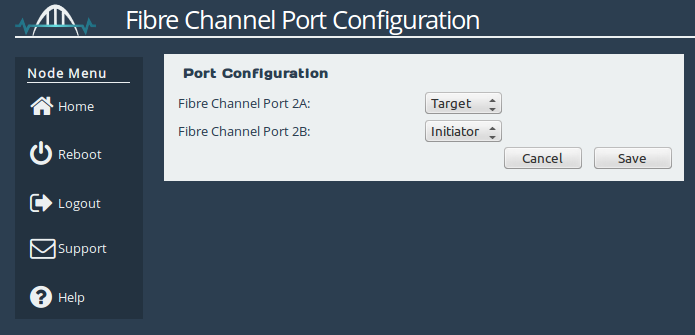 CONNECTING TO A FIBRE CHANNEL TAPE DRIVE
Note that PCI slots are numbered, starting at 1, from left to right; and ports on each HBA are lettered from left to right. E.g., in the picture below the Fibre Channel cable is connected to Port 1A. Using an LC-LC Multi-mode Fibre Channel cable, connect your initiator mode port to your Fibre Channel tape drive. An 8Gb card will only support hosts running at speeds at 2Gb and above; if your host is using a 1Gb Card or SFP please contact Bridgeworks Support.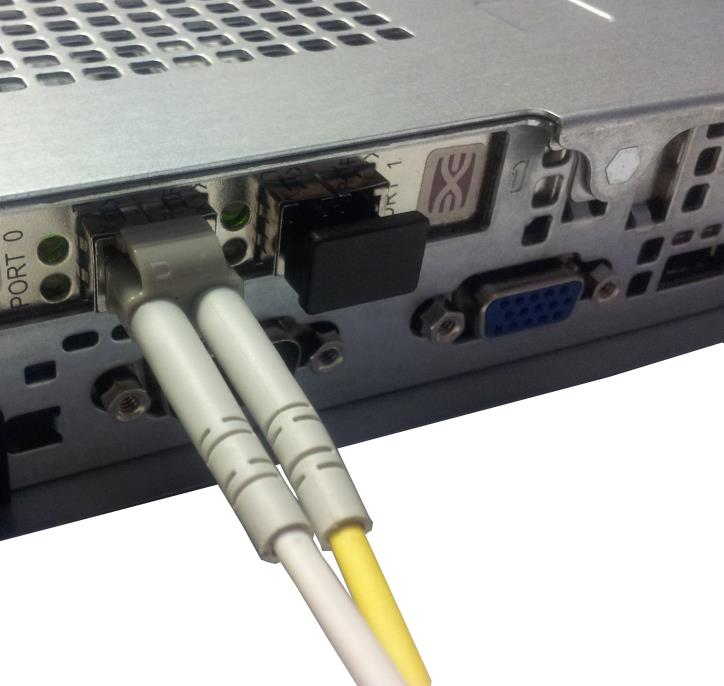 It is important to note that your link will not become active without any devices attached. When you do have devices attached the amber LED will blink, the pattern differing depending on the speed of the link. One flash indicates a 2Gb link, two flashes in succession indicates a 4Gb link and three flashes in succession indicates an 8Gb link.
CONFIRMING THE PRESENCE OF TARGETS
In order to confirm that targets will be presented to your WANrockIT Node in AWS, you should confirm that your FC devices are present on your Node. To do this, navigate to "SCSI Device Management" by clicking the corresponding icon as shown below.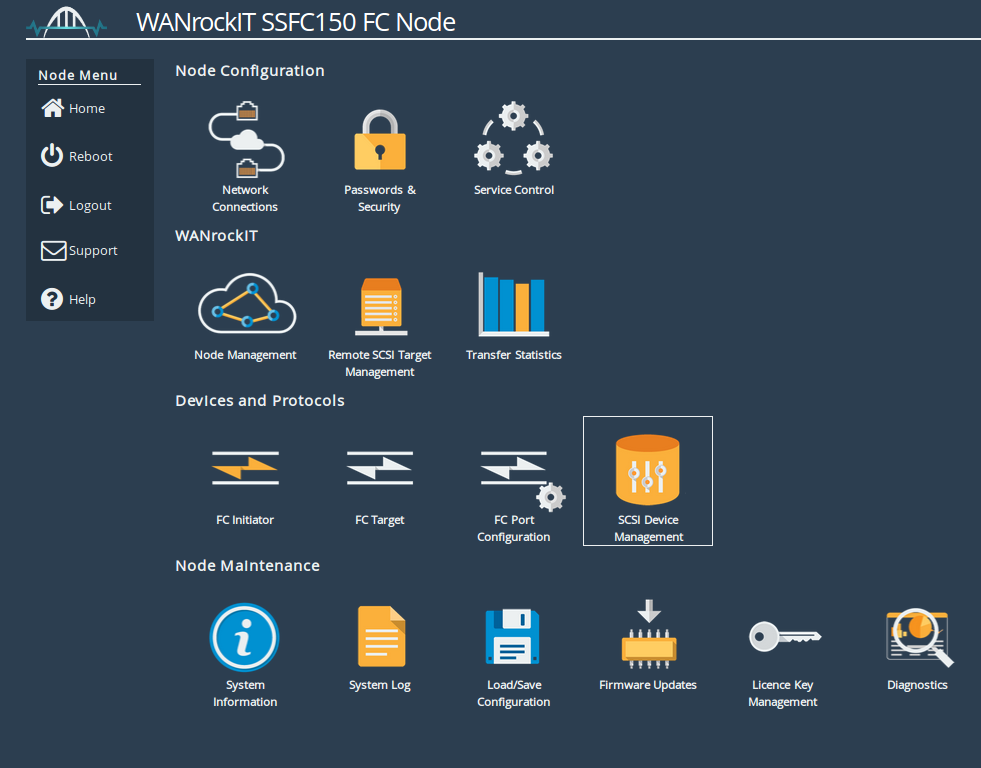 You will be presented with a page that contains a list of all the devices connected to your Node as either "Directly Connected Devices" (i.e. Fibre Channel Devices are physically plugged into this Node) or as "Devices registered from other WANrockIT Nodes" (i.e. a WAN connection was established to another WANrockIT instance which has "Directly Connected Devices"). The image below shows our directly connected tape drive.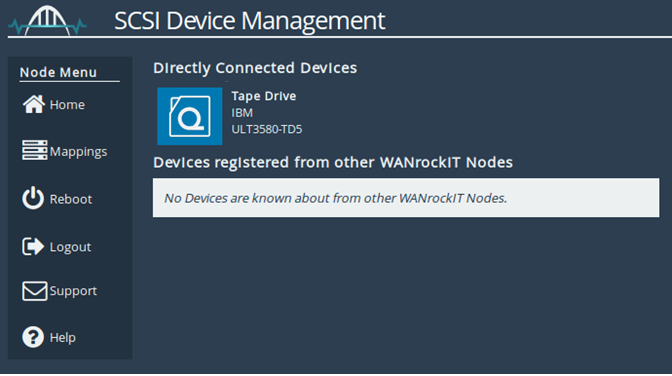 Congratulations, you have completed this step for connecting a Fibre Channel tape drive for presentation into the AWS cloud. For help with setting up WAN link click here for help with setting up your AWS WANrockIT Node click here.

Bridgeworks have looked at the problem of data movement and come at it from an entirely new perspective. In mastering the rules of data movement over distance, Bridgeworks have now broken them to provide you with the ability to move significant volumes of business critical data in real time removing unacceptable time lags, that risk failure, delay or presents major costs to your business.