FIBRE CHANNEL OR ISCSI HOSTS CONNECTED TO AN ISCSI TARGET IN AWS
OVERVIEW
In the following diagram, an AWS Storage Gateway and WANrockIT Node have been deployed in AWS EC2. The Storage Gateway's attached cloud storage is connected to the Node over iSCSI.On-premise, a WANrockIT appliance has established a WAN link to the Node in AWS EC2, and presents the cloud storage to the on-prem LAN. Two hosts are connected to the on-prem Node over iSCSI and Fibre Channel, respectively.
Using the WANrockIT connection over the WAN link provides a higher line utilisation than connecting a host to the Storage Gateway directly, allowing for faster backups and restores.It also allows on-prem hosts to access the cloud storage using an existing Fibre Channel SAN, rather than having to switch over to an iSCSI-based SAN.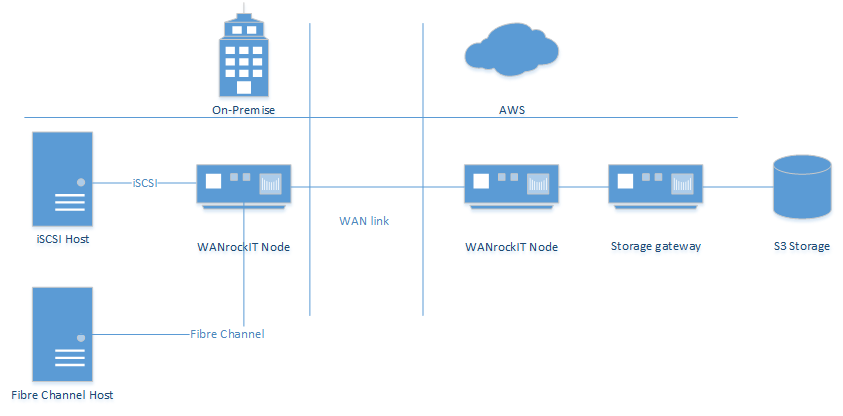 STEP BY STEP GUIDES
Step 1:"Launching your AWS Cloud Node"
Step 2:"Initial Setup of your WANrockIT AWS Node"
Step 3:"Configuring your AWS WANrockIT Instance to Present the AWS Storage Gateway On-Premise"
Step 4:"Downloading the Cloud Service Provider Node"
Step 5:"Deploying a WANrockIT ESXi Instance Using vSphere Web Client" or "Deploying a WANrockIT ESXi Instance Using vSphere Client"
Step 6:"Initial Setup of your CSP Node"
Step 7:"Configuring your CSP Node to Present iSCSI Targets from the Cloud Locally" or "Configuring your Hardware Appliance to Present iSCSI Targets from the Cloud Locally over FC"
Step 8:"Security Groups"
Step 9: "Enabling IPsec on your WAN link"
Step 10:"Connecting your Nodes using NAT" or "Connecting your Nodes without NAT"

Bridgeworks have looked at the problem of data movement and come at it from an entirely new perspective. In mastering the rules of data movement over distance, Bridgeworks have now broken them to provide you with the ability to move significant volumes of business critical data in real time removing unacceptable time lags, that risk failure, delay or presents major costs to your business.